Van Leyden was an extremely productive and versatile artist, hugely inspired by his numerous
travels: his use of warm colours, striking compositions, and strong rendition – whether
figurative or abstract – of people, animals, objects and landscapes made him a thoroughly
appreciated artist within a circle of peers and friends to which Picasso, Salvador Dali and Willem
de Kooning belonged as well
Ernst van Leyden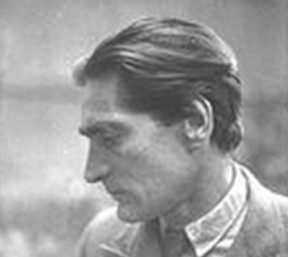 1892-1919
Oscar Moritz Ernst Leyden was born on 16 May 1892 in Rotterdam. In 1916 Ernst established his first studio in Amsterdam and exhibited with the St Lucas group and at the Stedelijk Museum in Amsterdam. He joined Dr Schoenmakers group in Laren where he met Mondrian, Rietvelt, van Doesberg and Van der Lek. Whilst his friends, Mondrian, Jan Sluyters, Charles Toorop, Leo Gestel, Van de Vegte and Wim Hussem were going to Vollendam Ernst set up a studio on the island of Urk.
1919-1926
At this time Ernst began travelling to and painting in exotic places bringing back his work to exhibit and sell in Holland. He built a remarkable artist's studio on a peninsula in the Loosdrecht lakes on stilts over the water and called it "De Hooge Wilgen". In 1923 he received the Queen Wilhelmina Grant which allowed him to establish a studio in Paris.
1926-1939
During a trip to Ascona in 1927 Ernst met Karin Kluth. It was love at first sight. From that moment they were inseparable although it wasn't until 1932 that they married, shortly before the birth of their son Ragnar. After 1935 the family spent its time between Loosdrecht and Hatherop Castle in England where Karin painted murals. In 1937 Ernst exhibited with Jan Sluyters, his mentor and friend, at the Stedelijk Museum (Holland). On 31st November 1939 the family caught the last boat for New York.
1939-1957|
Established artists in Europe, they now had to start anew in the United States. At this time the Leydens became the van Leydens. On a zigzagging discovery trip across the States to Mexico to renew their tourist visas in 1941 Ernst and Karin were so enchanted by Southern California that they decided to stay. Portraitists of the rich and famous such as Basil Rathbone, Thomas Mann and Gloria Vanderbilt they also make glass tile murals for luxurious homes, restaurants and hotels.
1957-1969
Ernst exhibited his abstract work for the first time, leaving California in 1957. A 1959 trip to Vallauris inspires his ceramic work. Ernst turned to collage as a medium. He made frequent trips to the U.S. and Venice throughout his extremely active last decade including a trip around the world in 1965. Ernst collapsed in the summer of 1969. During his convalescence he reverted briefly to figurative work before his death at the end of the year.
Around the world
Holland
1892 Born Rotterdam
1916 Studio on Spuistraat, Amsterdam
1919 Studio at Geelvink, Amsterdam
1916-1919 Studio at Urk
1919-1939 Studio at "De Hooge Wilgen", Loosdrecht
USA
1940-41 360E 55th St, New York then Sneden's Landing.
1941-42 Santa Monica Canyon
1942-57 Brentwood, Los Angeles.
1942-57 Several extended trips to Mexico
France
1926-32 Cité des Arts, Paris
1949-51 Rue des Martyrs, Paris
1957-59 Rue de Seine, Paris
1963-69 L'Enclos sur Lieutel, les Yvelinesa 17th century farm building near Paris
Mediterranean
1919-39 Syria, Morocco, Spain, Sicily, Turkey, Dubrovnic, Egypt, Aswan, Taormina, Positano, Capri, Rome, Venice
1930-35 Ernst and Karin lease a quinta in Rio de Milho in Portugal returning to Loosdrecht and Paris for exhibitions and social contacts.
1957-63 Fondamenta Bonlini, Venice
World trip
In 1965 Ernst undertook a long trip around the world, this exposure to Buddhist and Zen culture influenced much of his later work.
Teheran
Kaboul
Phnom Penh
Bombay
Tokyo
Hawaii
Los Angeles
Paris
Friends and Acquaintances
Frank Lloyd Wright, Charles Chaplin, Vincent Price, Charles Laughton, Man Ray, Igor Stravinsky, Christopher Isherwood, Aldous Huxley, Joep Nicolas, Tyrone Power, Noel Coward, Peggy Guggenheim, George Cukor, Serge Lifar, Octavio Paz, Prevert, Gloria Vanderbilt, Tamara de Lempicka, Louise de Vilmorin, Zadkine, Baron James Ensor, Willem de Koning, Ruffino Tamayo, Yanko Varda, Edgar Tytgat, Jean Cocteau, Jan Sluyters, Marc Chagall, Salvador Dali, Piet Mondrian, Leonor Fini, Van Dongen, Karel Appel, Michel Tapié, Fernand Crommelynck, Jany Roland-Holst, Picasso, Berthold Brecht, Bertrand Russell, Henry Miller, Diego Rivera